Overview​
IntelliBuddies Control Room web application utilizes a three-panel User Interface.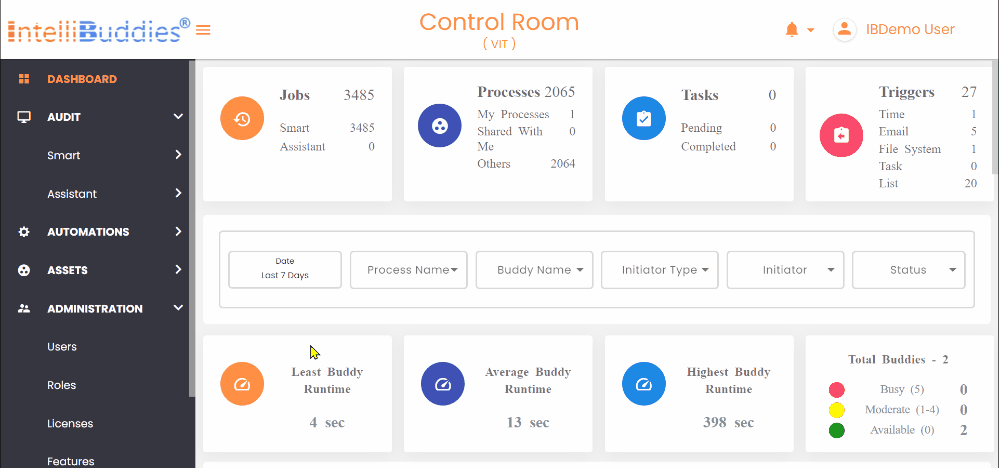 | Panel | Description |
| --- | --- |
| Title Panel | The top title panel displays the current page title and access to logged-in users' alerts and profiles. |
| Side Panel | The left side panel provides access to all the entities and the corresponding pages to view the data |
| Data Panel | The right data panel shows the data of the corresponding page selected in the side panel. It also provides several functionalities through grid and context menu |
Grid Properties​
The Data Panel shows the data inside a grid. You can manage the page-level grid properties from the toolbar menu above the grid. The toolbar menu contains a horizontal ellipse. You can see more toolbar menu items by clicking this ellipse.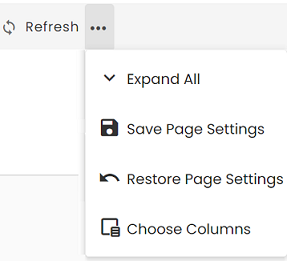 | Toolbar Menu items | Description |
| --- | --- |
| []Refresh | Refreshes the grid data |
| []Expand All | You can expand or collapse the items in the grid. You can use this on Group items, grouped based on columns. |
| []Choose Columns | You can add or remove columns from the grid |
| []Save Page Settings | Persists the current modified grid properties |
| []Restore Page Settings | Restores the grid to the previously persisted grid properties |